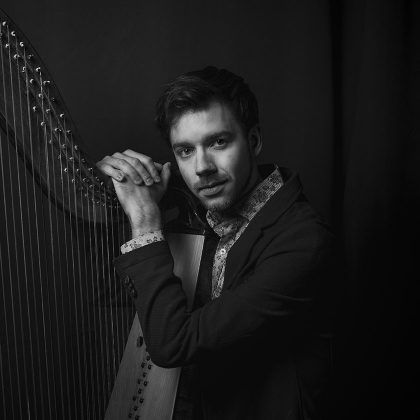 Elizabeth has alerted us to an on-line concert featuring a wonderful Canadian harpist, Antoine Malette-Chenier,
It's called Cozzolani Reunited, premiering July 27, 2021 at 1:00 pm. , via Early Music Vancouver
It's streaming online for free or donate.  earlymusic.bc.ca 
Tickets available by phone 604-822-2697 or online.
Here's what Elizabeth had to say about him -  I first heard Antoine play at the OSM Standard Life Competition in 2009, and was amazed at his virtuosity and musicality. I have seen a hilarious video he did with colleague Ellen Gibling at the "National Youth Orchestra Idol" competition, in which the two harpists played brilliantly, doing a complicated routine which must have taken hours to put together. including playing the same harp together and switching positions.
An innovative and creative harpist, Antoine Malette-Chénier plays a repertoire ranging from the Renaissance to contemporary creations. He has won many awards, including the Audience Awards and the Festival Montréal Baroque Award from the Concours international de musique baroque Mathieu-Duguay 2017, the Jury's Award at the Concours du Prix d'Europe 2017, a first prize at the 2013 OSM Standard Life Competition, and the 2014 Michael Measures prize from the Canada Council for the Arts. Principal harp of the Orchestre symphonique de Trois-Rivières, Antoine has performed as a soloist, chamber, basso continuo and orchestral player in Canada, France, and the United States with ensembles such as the Nouvel Ensemble Moderne, the Orchestre Métropolitain and the Studio de Musique ancienne de Montréal. Antoine holds degrees from the Yale School of Music, McGill University, the Université de Montréal and the Conservatoire National Supérieur de Musique et de Danse de Lyon.
In this concert he is playing the baroque triple harp - an important continuo instrument of the time, as part of the ensemble accompanying the solo soprano, in compositions by Chiara Margarita Cozzolani 
Cozzolani (1602–1676 or 1678) has been steadily receiving attention in recent decades as one of the most skillful and expressive of a handful of published nun composers from seventeenth-century Italy. 
Cozzolani was the youngest daughter of a wealthy Milanese merchant family. She took her vows at age 18, adopting "Chiara" as her religious name as she entered the Benedictine monastery of Santa Radegonda where at different times she would serve as maestra di cappella, abbess, and prioress. Her name is mentioned in disputes about the regulation of music within convents, including a conflict with a certain Archbishop Alfonso Litta who launched a crusade against music and "irregularities." Cozzolani's first publication of 1640 was lost during WWII, but her 1642 and 1650 publications establish her as one of Milan's leading mid-century composers.
There is more about her and the music on the www.earlymusic.bc.ca website
Here he is playing a beautiful sarabande on the triple 
I couldn't find that wonderful duet again, but perhaps someone will link to it in the comments below.