4 students in Vancouver were awarded funds to assist with summer study opportunites - Cyrenius Yuen used hers to compete in the Hong Kong. The funds were provided by the American Harp Society. We've asked each student to provide a report about how they used their share - here is Cyrenius Yuen's:
I was so excited to be one of the finalists in the Primary III category of the 4th Hong Kong International Harp Competition held in October 2018. Although I did not win any prizes, I gained lots of valuable experiences. I got to meet many fantastic competitors and performers from different levels, and I also received many useful comments and feedback from different judges. 
Thank you for giving me the scholarship in order for me to be part of this wonderful event.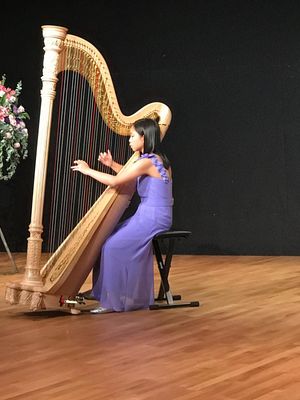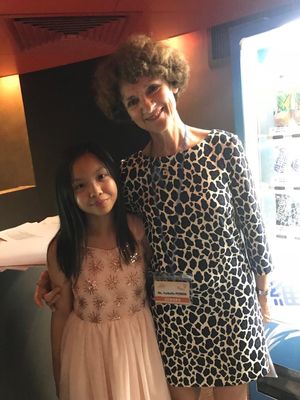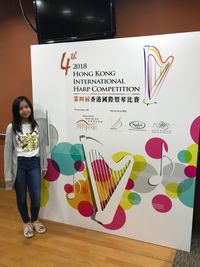 Honoka Shoji's report: 
Thank you so much for your time and dedication to the West Coast Harp Society! I was able to go to the Young Artist's Harp Seminar this summer, thanks to the scholarship money I received. 
The memories I made and all the things I learned are so valuable to me as a harpist! Thank you so much!
from Renee Qin
Renee Qin: "The Canadian Music Competition ( https://www.cmcnational.com/en/index.php ) is a national competition with the goal of supporting and encouraging young Canadian classical musicians. Since its creation in 1958, the Canadian Music Competition has established 14 chapters all over Canada and has been witness to an ongoing stream of thousands of young musicians, some of whom have become the greatest names on the national and international scene today. 
As a first time participant, Renee passed the first round National Auditions in Vancouver in March 2018, and advanced to National Final in Montréal in June 2018 as a finalist. 
The National Final took place between June 13-30, 2018 in Montreal. Renee played the first movement of the Harp Sonata by Hindemith and La Fille aux Cheveux de Lin by Debussy. An excerpt of her performance can be found on Youtube: https://youtu.be/NgZRPulfuL0 
She received a final score of 93% and awarded First Prize in the 15 years age category.The experience of the Canadian Music Competition and the West Coast Harp Society scholarship have encouraged her to continue her harp studies and to pursue a music degree post secondary in the future. She is very grateful to the American Harp Society for providing the grant."