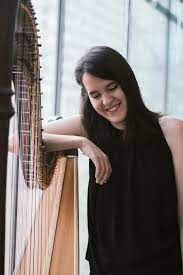 Harpist Lenka Petrović is the first prize winner of the prestigious 20th International Harp Contest in Israel in 2018 and is the first Serbian to win this prize. She was awarded the Irina Kaganovsky prize for the best performance of Bedřich Smetana/Trneček: Moldau at the same competition and is currently principal harpist of Concerto Budapest Symphony Orchestra in Hungary. 
​We were delighted that she taught a masterclass for West Coast Harp Society members on Nov. 20 and 21, 2021.  The classes ran from 9 am to noon on both days, by Zoom.
Students who are members are eligible to play in WCHS master classes. If you haven't not purchased your membership and received an invitation and log-in to the members area, please do that first! Then talk to your teacher about playing.
If you want to observe - and there is certainly plenty to learn that way, and much enjoyment to be had - members are welcome to do that by Zoom as well, at no charge. The Zoom log-in will be on the subscriber member home page. If you've completed your login you'll see the info there directly, if you haven't, you should first use the button here to buy your annual membership ($39.00)